Every day, our ombudsmen work with and advocate for some of Kentucky's treasures—our elders. Through their wisdom, memories and lived experiences, seniors preserve our heritage, while helping us negotiate the present and prepare for the future. Because of their tireless work on behalf of seniors and people with disabilities, NHOA Board member Nancy Leonard wanted to honor our ombudsmen, whom we also consider Kentucky Treasures.
Nancy, founder of 7 Oaks Artistry, decided to design and create custom jewelry pieces, inspired by each of our ombudsmen. Every piece is unique, representing the individual who motivated it. Because of her generous nature, Nancy is donating her custom-made jewelry to NHOA to auction as a fundraiser. (At NHOA, we also consider Nancy a treasure!)
NHOA will hold a silent auction for these pieces during "The Great Art Giveaway & Sale – To Benefit The Nursing Home Ombudsman Agency" on November 20-21, 2015, at ArtsPlace (161 N. Mill Street, Lexington, KY 40517).
If you would like to place a bid prior to the live event, please call (859) 277-9215 or e-mail lclewett@ombuddy.org no later than 5:00 pm, Thursday, November 19th. Include your name, phone number and address, along with your bid. But if you want to make sure you can outbid other participants, you'd better be there on November 20th and 21st! Live bidding will end at 3:45 pm on Saturday, November 21st.
WINI YUNKER
Wini Yunker has been an ombudsman for Jessamine County's long-term care facilities since 2008. A native of Nicholasville, Wini is an active member of her community and, even at age 81, never stops trying new things. Before retiring in 2000, Wini had a successful business career at Sargent & Greenleaf, Inc. and Jerrico, Inc. While working, she earned a bachelor's degree in marketing from Spalding University and a master's degree in international commerce from the University of Kentucky's Patterson School of Diplomacy.
When she retired, Wini decided to pursue her life-long dream of volunteering in the Peace Corps. She spent two years in Ukraine, teaching, editing a monthly newsletter, and organizing various community projects and events. Wini continues to display a servant's heart in her work as an ombudsman.
"Wini Yunker is an advocate through and through," says State Long-Term Care Ombudsman Sherry Culp. "When I first met Wini, I learned about her experiences as an advocate in the Peace Corps and I knew she would bring that same passion and dedication to our Ombudsman Program. She certainly has gone far and beyond the call of duty. Wini works a large volume of complaints as she truly works to build a rapport with every resident she serves."
Nancy Leonard designed these earrings to represent Wini's adventuresome spirit and her remarkable achievements (as well as her love of dangling earrings). A long-time caver, Wini was one of the first women to rapel High Bridge in the 1960s. In 2013, at age 79, she rapelled 410 feet down The Lexington Financial Center, also known as "The Big Blue Building" in downtown Lexington. The earrings' center shape represents a cave, and the dome is a caver's helmet with its yellow carbide lamp . Each colored stone signifies an event: green is for teaching economics in the Peace Corps, blue symbolizes repelling down the Big Blue Building, and red represents her work as an ombudsman—which comes from her heart.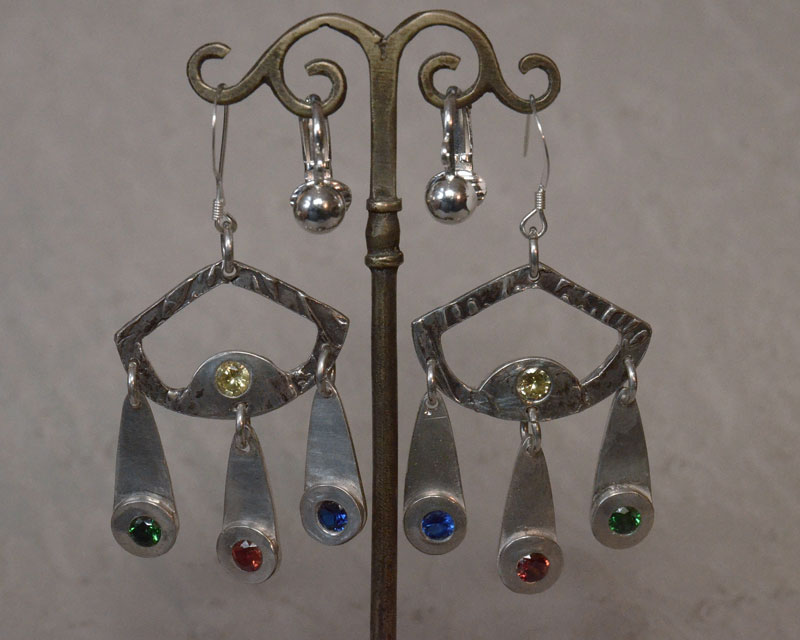 REBECCA HACKER
Rebecca Hacker has been an ombudsman for almost seven years. A resident of Stanford, she currently is NHOA's ombudsman for long-term care facilities in Garrard and Lincoln Counties. Becky also serves as a team leader and mentor for ombudsmen in Boyle, Garrard, Lincoln and Jessamine Counties.
"Becky came to the Ombudsman Program not long after retiring from EKU," recalls State Long-Term Care Ombudsman Sherry Culp. Hacker earned a bachelor's degree in psychology at Eastern Kentucky University and worked there for 23 years. Much of that time she coordinated academic advising for the College of Business and Technology.
"She is full of energy and ready to make a difference in the lives of the residents she serves," Culp says. "Becky is a strong professional advocate who effectively holds providers accountable for person-centered care." In her work as an ombudsman, Becky draws on her own experiences with her father, who lived in a nursing home for eight years. During that time, she visited him every day.
Becky loves the beach, outdoors, nature, children, and "keeping myself busy helping anyone I can. That is why I enjoy my time as an ombudsman," she says. Nancy designed this pendant to represent Becky's love of the beach and water. But when Becky first saw the pendant, it held a deeper symbolism for her. "The waves symbolize NHOA's continuous efforts to improve the quality of care for all residents," she said, while the pearl and cubic zirconia represent "how much we value each of our residents."