SPECIAL EVENTS
Designer Showcase 2018 is open for tours
Monday through Saturday 10 a.m. – 4 p.m., Sunday, 1-5 p.m.,
and during the following special events,
which are free and open to the public unless otherwise noted:
NEW! DESIGNER SHOWCASE AFTER HOURS
TUESDAY, SEPTEMBER 25
Supper at the "White House"
5:00 p.m. – 8:00 p.m.
Pull up a chair in our charming outdoor café and enjoy BBQ, Mirror Twin Brewery craft beer, and Rolling Over pizza (cash and credit cards accepted).
Then kick back to the sounds of Kimberly Carter & Carryin' On as they perform rock-infused country and blues favorites and originals from a variety of genres–all sung with a heaping helping of mountain soul.
Tours of the showcase house (optional) are $25/person, $5 under 12, and free for child in arms.
---
THURSDAY, SEPTEMBER 27
Wine + Design—Pick the Designers' Brains
5:00 p.m. – 8:00 p.m.
Meet the designers in their rooms and find out what inspired their choices. Learn about the latest design trends and how to apply them in your space. Get your own design questions answered for free!
The first 100 guests to arrive will be treated to scrumptious appetizers by Saul Good and wine, compliments of Kentucky Eagle.
$25/person, $5 under 12, and free for child in arms.
---
MONDAY, OCTOBER 1
Monday Funday: Girls (and Guys) Night Out!
5:00 p.m. – 8:00 p.m.
See the house and grounds all lit up! This evening is for everyone who can't make it to a daytime tour (and for those who want to see it again). Bonus: crowds are lighter early in the week.
Showcase House Tours $25/person
DAYTIME SPECIAL EVENTS
SUNDAY, SEPTEMBER 23
Woodford Reserve Bourbon Tasting*
Tastings at 1:15 p.m., 2:00 p.m. and 2:45 p.m.
Treat yourself to fine Kentucky bourbon, delectable appetizers by DaRae and Friends Catering, and Dean Phelps on the guitar.
$40.00/person includes Showcase Home Tour
Buy your ticket to the 1:15 p.m. tasting here.
Buy your ticket to the 2:00 p.m. tasting here.
Buy your ticket to the 2:45 p.m. tasting here.
*Limit 20 people per session.
---
WEDNESDAY, SEPTEMBER 26
Lunch & Learn with Dr. Lindsey Apple, author, and expert on the "White House"
12:30 p.m. – 1:30 p.m.
Dr. Apple is the author of "Cautious Rebel," the biography of Susan Clay Sawitzky, who grew up in the "White House" and was a great-granddaughter of the famous Kentucky statesman Henry Clay. 
Lunch available from Bell on Wheels food truck 11:00 a.m. – 2:00 p.m.
---
SUNDAY, SEPTEMBER 30
Hemp Demonstration by Alyssa Erickson, Industrial Hemp Entrepreneur
1:00 p.m. – 4:00 p.m.
Back in the day, hemp was grown on the "White House" property. Today, In addition to providing useful fibers and making biodegradable plastics, certain fuels, and other things, hemp also is an ingredient in some health products. Learn more about this crop's many uses and benefits.
---
WEDNESDAY, OCTOBER 3
Lunch & Learn:  Fall Gardening with gardening expert Karen Angelucci, author of four books on gardening
12:30 p.m. – 1:30 p.m.
Take care of your garden in the fall, and it will reward you in spring and summer. Learn about the fall garden chores to put on your list. Lunch available from Bell on Wheels food truck 11: 00 a.m. – 2:00 p.m.
---
SUNDAY, OCTOBER 7
Top 10 Things You Should Know About Nursing Homes
2:00 p.m. – 3:00 p.m.
Are you responsible for a loved one who may need a higher level of care than you can provide? How do you choose the best nursing home? What should you do when something goes wrong? Get the answers to these questions and others at this informative talk by a long-term care expert.
Presented by Sherry Culp, President of the Nursing Home Ombudsman Agency of the Bluegrass, Inc. and Kentucky State Long Term Care Ombudsman.
DESIGNERS
Arhaus
Benjamin Deaton Interiors
Cabinets & Design
Carpet One
Counter Culture Plus
Creative Kitchen & Bath
Design Theory by Kristy Anderson
Distinctive Faux Artistry
Ethan Allen
For Friends!
Greentree Antiques
House by JSD Designs
Housewarmings
Hubbuch & Co.
Ivy Downs Interiors
Landmark Landscaping
Liberty Hill Antiques
liz douglas designs
L.V. Harkness
Market on National
Metamorphosis Studios
Pottery Barn Lexington
Regency Interiors by Gail Moses
Suff's Furniture
Zedtta Wellman
SPONSORS

The Nursing Home Ombudsman Agency of the Bluegrass, Inc.
is deeply grateful for the generous support of our Designer Showcase 2018 sponsors.
Central Bank
Peter and Rashmi Brown*
The Lary Foundation
Gayle and Tommie Faust
Five D Thoroughbred LLC/Dr. and Mrs. William Dobozi
Joe and Debbie Graviss*
Lloyd and Judy Hillard*
Quantrell Auto Group
Donna Jo Rogers
SKW CPAs and Advisors
Karen Williams M.D.*

*NHOA Board Member 
COMMUNITY PARTNERS

AURA at Home
Brandywine Explosives & Supply, Inc.
Brecher's Lighting
Bryant's Rent-All
Carpet One
Clay-Ingels Company
DaRae & Friends Catering
Dean Phelps
Kentucky Eagle
Kentucky Lighting and Design
Kimberly Carter & Carryin' On
Lexington Herald-Leader
Mirror Twin Brewery
Pemberton's Greenhouses
Perspectives
Pieratt's
Rag Peddler
Raising Cane's Chicken Fingers
Rolling Oven
Saul Good
Taylor Made Pools and Spas
Wallcovering Artisan Bob Banker
WillisKlein Showrooms
WKYT-TV
WVLK 590 Talk Radio
Woodford Reserve
SHOWCASE HOUSE AVAILABLE
FOR GROUP TOURS AND MEETINGS
Clubs and organizations interested in group tours or having meetings or special events at the showcase house should contact NHOA for scheduling information at (859) 277-9215 or designershowcase@ombuddy.org.
For updates and schedule changes, visit www.ombuddy.org.
---
SHOWCASE VOLUNTEERS NEEDED
We need volunteers stationed throughout the showcase house to greet guests and answer questions for the run of the show, September 21-October 7. Hosts work three-hour shifts Monday-Saturday (10 a.m.-1 p.m. and 1-4 p.m.) and four-hour shifts on Sunday (1-5 p.m.).
Sign up online at https://signup.com/client/invitation2/secure/2384556/false#/invitation or by contacting Alice Dehner at abdehner@gmail.com or 859-223-9117.
---
PHILANTHROPY
The Nursing Home Ombudsman Agency of the Bluegrass, Inc. is a non-profit organization dedicated to making life better for 5,500 residents of nursing homes and other long-term care facilities in 17 counties in Central Kentucky. It is the only organization doing this work.
Our team of 25 certified ombudsmen visit residents, monitor their care, and advocate on their behalf when there are problems.
They are trained to spot signs of physical, emotional, financial, and sexual abuse.
They educate residents, families, and facility staff about the special legal rights of individuals living in long-term care facilities.
They treat residents with the honor and respect they deserve.
As part-time employees of the Nursing Home Ombudsman Agency of the Bluegrass making a modest wage, they go above and beyond the call of duty for the benefit of the residents they serve.
They are the heart and soul of this organization.
To make a tax-deductible gift, mail checks payable to the Nursing Home Ombudsman Agency of the Bluegrass (NHOA) to 3138 Custer Dr., Suite 110, Lexington, 40517, make a gift online at www.ombuddy.org or give it to a showcase host.
Interested in being a Designer Showcase 2018 Sponsor? Please contact susiedhillard@ombuddy.org or (859) 277-9215. Sponsorships may be fulfilled over the next 10 months or by June 30, 2019.
Admission to Designer Showcase 2018 is $25 for adults, $5 for children under 12, and free for child in arms. Prices include Kentucky sales tax of 6 percent. We welcome contributions to offset this unexpected expense.
Please allow 60-90 minutes to tour the house and grounds. The house is not wheelchair accessible.  No strollers, please.
---
DESIGNER SHOWCASE HOUSE HISTORY
---
2018 The White House at 3330 Versailles Road
2012 Highland Hall
2010 Glenlary
2008 Shady Side
2007 Rose Hill
2005 Corinthia
2003 La Belle
2002 Providence Place
2000 Spendthrift Farm
1997 The Grange
1994 Pinkerton-Rouse Place
1992 Normandy Farm Main House
1991 Firebrook Mansion
1989 Meadowthorpe Mansion
1988 Centre City Condominiums
1986 Mount Brilliant
1985 Waveland
1984 Louden House
1982 Bell House
1981 Shady Lane House
1980 Auvergne
1979 Faywood Estate
1978 The Mansion at Griffin Gate
1976 Birch Nest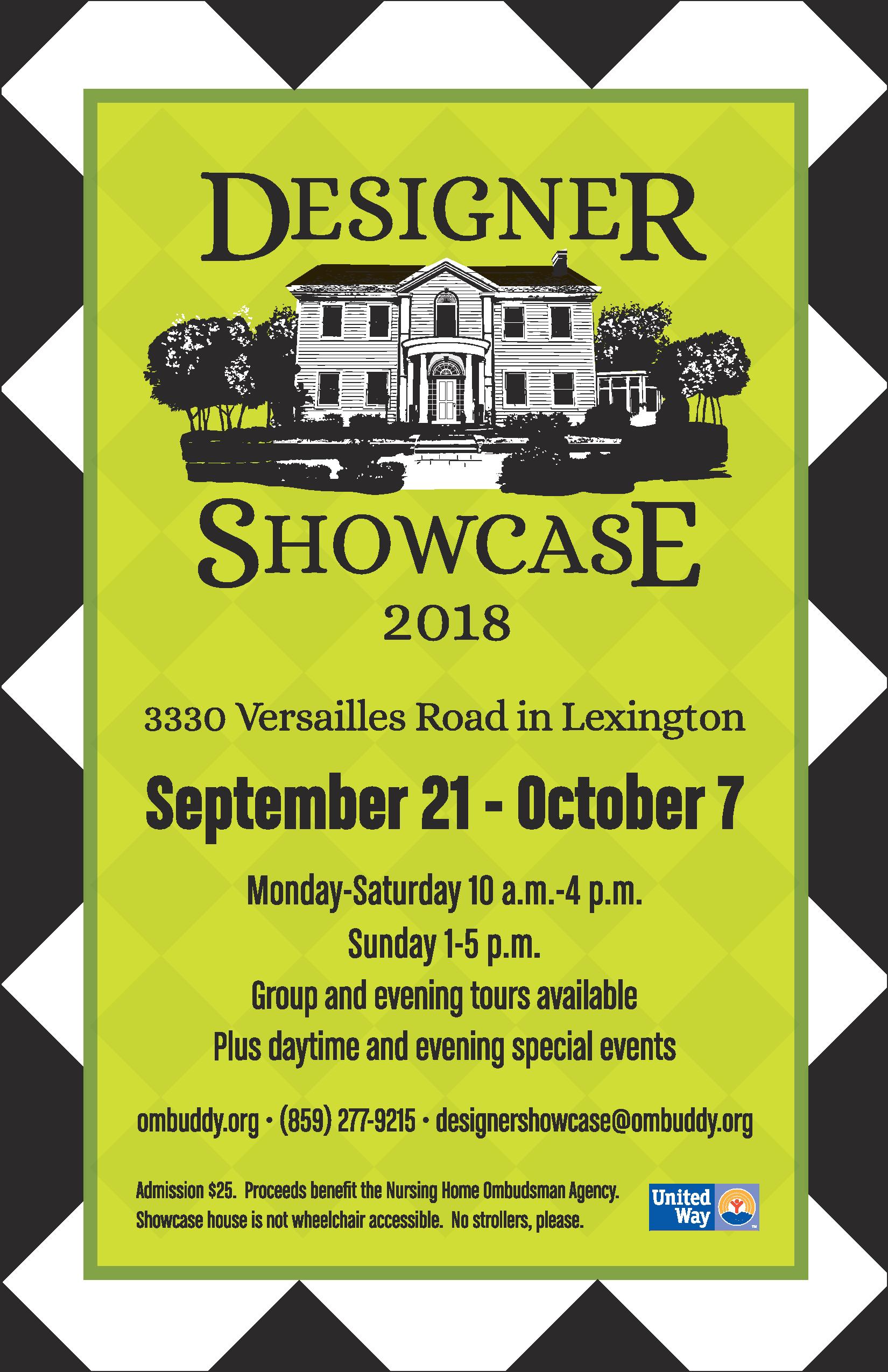 To volunteer as a room host or at the admission table, please click here: Volunteer Sign Up